Some time ago, I wrote about The Treachery of Images, which is one of my beloved paintings and also served me as a byway to my rant. Today, let's take a look at The Domain of Arnheim, also by my favorite Belgian René Magritte. We'll also explore where the name comes from and what does it have to do with Edgar Allan Poe. No rant today.
Le domaine d'Arnheim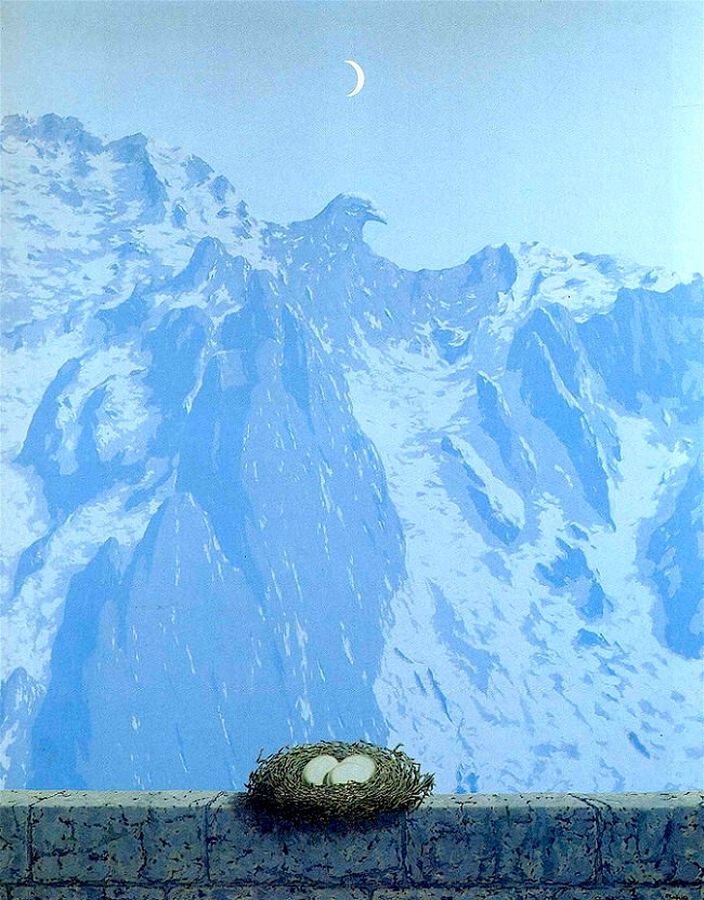 I have first seen this painting on a field trip to the Museum of Fine Arts of Belgium in Brussels while doing my studies at Hogeschool Gent. It immediately caught my eye for it's esthetic appeal and I bought a reproduction, which to this day hangs in my home. Only later have I learned about it's origin and connected story.
Origin of the name
The name "The Domain of Arnheim" is actually a name of one of the short stories by famous American poet and writer Edgar Allan Poe. You can go read the story yourself, it's quite short, but cutting it even shorter, it speaks about a prosperous man named Ellison, who on top of his own good fortunes inherits an exorbitant amount of money from his distant uncle and instead on spending the money on himself or charity, sets about to find the perfect place and further improve it thru gardening and building, to become the most beautiful landscape on Earth. He found such place in the fictional Arnheim.
Here's a short excerpt from the story:
"…no such combination of scenery exists in nature as the painter of genius may produce. No such paradises are to be found in reality as have glowed on the canvas of Claude. In the most enchanting of natural landscapes there will always be found a defect or an excess - many excesses and defects."
The painting uses a not so common technique of combining landscape with still life imagery. Although quite common in modern photography, this combination was not often used in old paintings, which were either landscapes or still life, but rarely both.
Multiple versions
Magritte painted several versions of this painting, nine in total, as was quite common with him. Presented here is the last one from 1962. All of them depict the motive of a mountain range with the distinct eagle head and bird eggs in juxtaposition. He found this imaginary landscape to be his Domain of Arnheim, a place of ultimate beauty.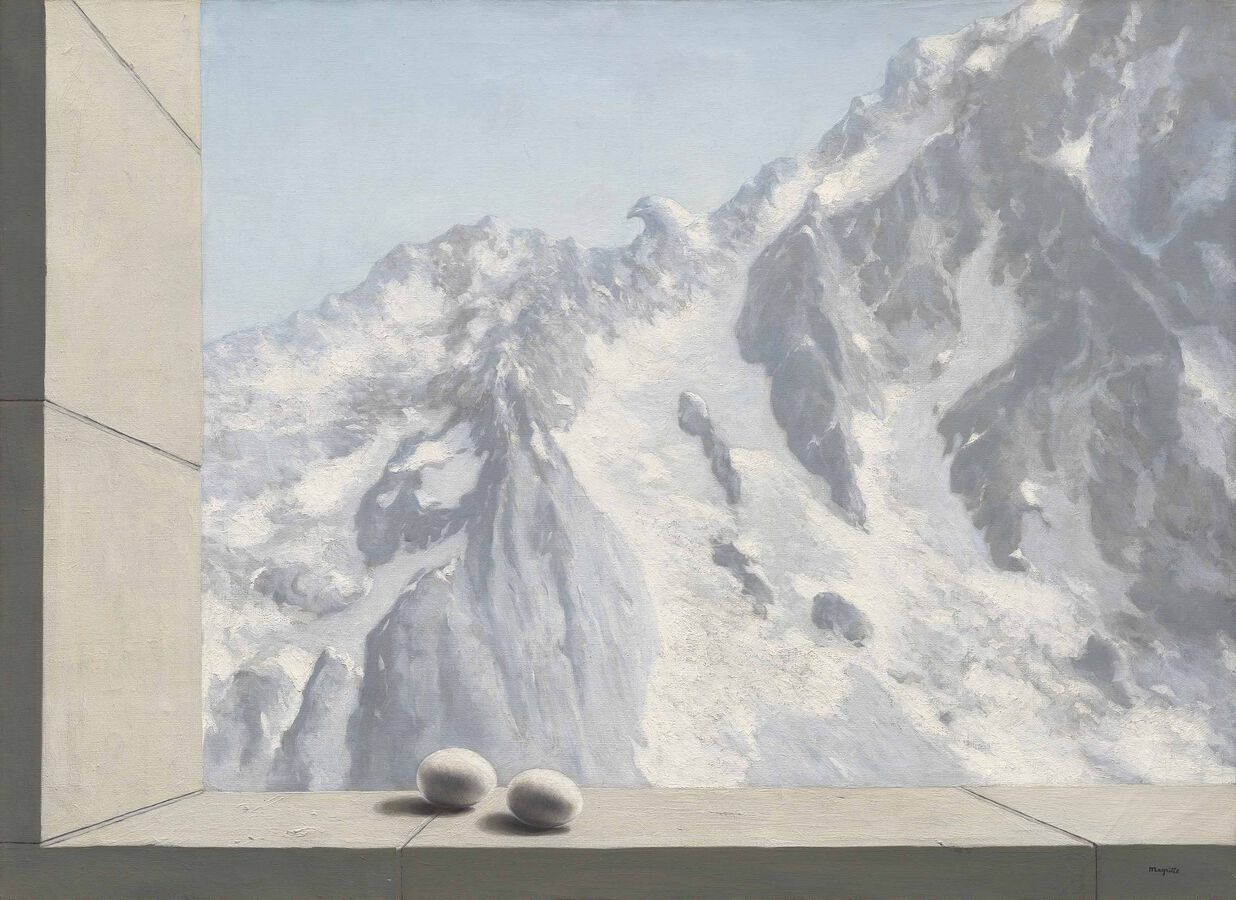 The motive of eagle-shaped mountain is however even older than this first version. It appeared first in his 1936 painting Le Précurseur (The Precursor).
The Catalogue Raisonné says, "The mountain may well have been based upon the upper two-thirds of a color reproduction of a photograph found among Magritte's papers, something he certainly handled, as it bears a drawing by him on the verso."
That he found the mountain landscape beautiful is also underlined by the fact that Belgium is mostly flat and the only heights are the Ardennes, which are rather round hills than spiky mountain ranges.
What about you? Have you ever thought about, what would be your "Domain of Arnheim"? How would it look? Have you even found it?